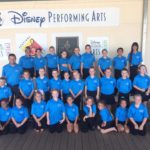 Our show chorus began 15 years ago and consists of children between the ages of 7 (By September 1st) through 6th Grade). It is perfect for a child who may be shy but wants to be more comfortable performing on stage- but it is also great for more seasoned performers who would like to audition for solos and have the exposure of singing a solo at a larger venue. If you have a child younger than 7, we recommend our VPK-6 year old Musical Theater Class. Click HERE now to learn more.
We are proud to have had our chorus students featured at Walt Disney World, Downtown Celebration, Gaylord Palms Resort, UCF Arena, United Way events, retirement homes, the National Anthem for the Magic and Braves, The Dr. Phillips Performing Arts Center, and even auditioned for America's Got Talent in Orlando.
We meet once a week and will spend the first five minutes on music reading, scales, and vocal warm-ups. The remainder of the time will be spent learning our music for the session along with stage choreography
Under the direction of Mr. Caponi
Entering Grades 1-6
(CLICK HERE TO SHOW INTEREST FOR
Fall 2020 CLASSES)
September 9th-December 9th
CLASS IS Full. Click HERE to show interest for the Spring, which begins in January 
Scroll down to preview our Fall 2020 Set
Chorus: Ages 7 (by August 1st, 2020) through 6th Grade each Wednesdays (4:30-5:30 p.m.) -Fall Classes

All classes will be located at our studio

-303 North US-Highway 27 Unit 2C Minneola, Fl 34715

Registration (New & Returning Students): $50 per student, which includes Sheet Music, rehearsal CD, and rights to perform. Due to increased costs, this is the new pricing for registration.

Performing Polo Shirt is required for purchase. $20 

Tuition

: $240 for the Fall Season. It is conveniently broken into four monthly payments at $60 per month.

Fall Performance attire consists of

:  Black Dress Pants, Black shoes (flats or all black). All shoes will have to be approved by the Caponi's prior to a performance. No colored shoelaces. All polos are tucked in.
Fall 2020 Repertoire Below-
Song From Stranger Things (from the Netflix Original Series)–

The sci-fi thriller series Stranger Things has reawakened interest in 1980s songs, pop culture, and fashion – along with genuine scares, mystery, and suspense. Each episode features classic '80s pop songs, five of which are featured in this medley. Songs include: Should I Stay or Should I Go; Every Breath You Take; Material Girl; You Don't Mess Around with Jim and Runaway.

 

Click HERE for a preview.

My Best Friends Wedding (Medley)

– 

The wonderful songs used in the movie "My Best Friend's Wedding" beg to be sung by choirs! That's why this delightful medley will steal the show! From the coquettish Wishin' And Hopin' to the lush, romantic The Way You Look Tonight to I Say A Little Prayer, which was featured in an outrageously funny scene in the movie

 Click HERE for a preview

Like It's Christmas – Show choirs as well as concert choirs will love singing this upbeat song with a wonderful message for the holidays. Originally recorded by the

Jonas Brothers

, this bright rock shuffle tune is easily learned and fun for all ages.  Click HERE for a preview

Rockin' With Santa– This fun-to-sing Santa medley incorporates three different styles of rock 'n' roll along with three classic Christmas tunes. Rockin' Around the Christmas Tree is presented in a straight-ahead rock style, Santa, Bring My Baby Back (to Me) is in a fun rockabilly style, and I Saw Mommy Kissing Santa Claus has a classic surfer-rock feel. Click HERE for a preview              

Please Note: Students will be performing up to a 25 minute repertoire of music at various locations during the season. Please keep in mind that although our show chorus does not require auditions to join, there are opportunities for solos depending on the songs that are chosen for the season. For anyone that is interested in 'possible' singing or speaking solos, we will be looking for how your child projects, their pitch, and stage presence. Dates will be provided for parents in advance on when your child would audition for various solos.
Performance Locations
Due to Covid-19, there are many restrictions to perform in public places as in past years. We will keep you posted if opportunities become available. Normally, we always perform at the Gaylord Palms Ice Exhibit in the lobby. We will keep you posted

Festival of Trees (Orlando Museum of Art)

–

Saturday, November 14th at 10:30 am)

BlackBox Theater Performance–

Thursday, December 9th at 7:00 pm and Friday, December 10th at 7:00 p.m.

Click HERE to register to be on the waiting list. Class is currently Full!

Click HERE to check out our YouTube Channel with videos