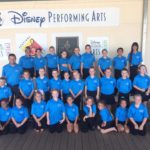 Our show chorus began 15 years ago and consists of children between the ages of 7 (By September 1st) through 6th Grade). It is perfect for a child who may be shy but wants to be more comfortable performing on stage- but it is also great for more seasoned performers who would like to audition for solos and have the exposure of singing a solo at a larger venue. If you have a child younger than 7, we recommend our VPK-6 year old Musical Theater Class. Click HERE now to learn more.
We are proud to have had our chorus students featured at Walt Disney World, Downtown Celebration, Gaylord Palms Resort, UCF Arena, United Way events, retirement homes, the National Anthem for the Magic and Braves, The Dr. Phillips Performing Arts Center, and even auditioned for America's Got Talent in Orlando.
We meet once a week and will spend the first five minutes on music reading, scales, and vocal warm-ups. The remainder of the time will be spent learning our music for the session along with stage choreography
Please Note: Students will be performing up to a 25 minute repertoire of music at various locations during the season. Please keep in mind that although our show chorus does not require auditions to join, there are opportunities for solos depending on the songs that are chosen for the season. For anyone that is interested in 'possible' singing or speaking solos, we will be looking for how your child projects, their pitch, and stage presence. Dates will be provided for parents in advance on when your child would audition for various solos.
Under the direction of Mr. Caponi
Class schedule,performances, and attire
(CLICK HERE TO SHOW INTEREST FOR SPRING 2020 CLASSES)
Chorus: Ages 7 (by August 1st, 2019) through 6th Grade each Wednesday (4:30-5:30 p.m.) -January 8th – May 13th

All classes will be located at our studio

-303 North US-Highway 27 Unit 2C Minneola, Fl 34715
Registration (New & Returning Students): $30 per student, which includes Sheet Music, rehearsal CD, and rights to perform.

Performing Polo Shirt is required for purchase. $20

Tuition

: $300 for the Season. It is conveniently broken into five monthly payments at $60 per month.

Performance attire consists of

:  Black Dress Pants, Black shoes (flats or all black). All shoes will have to be approved by the Caponi's prior to a performance. No colored shoelaces. All polos are tucked in.
Spring 2020 Repertoire
John Denver in Concert (Medley)–

This medley contains four hits by John Denver, from the lively

Thank God I'm a Country Boy 

and 

Take Me Home, Country Roads 

to the gentle 

Annie's Song

and plaintive 

Rocky Mountain High. 

Straightforward choral writing allows the country pop feel to shine through and the optional instrumental parts add to the flavor.

Click HERE for a preview.

Awesome 80's (Medley)

–

Enjoy the fun, the energy and the nostalgia of the '80s! This medley makes a perfect concert theme or special feature for choirs of all ages. Songs include: Our Lips Are Sealed; Walk Like an Egyptian; Jessie's Girl; Mickey; Sweet Dreams (Are Made of This); Whip It; Call Me; The Look of Love; Girls Just Want To Have Fun; Everybody Have Fun Tonight. Click HERE for a preview

Banana!

–

This is a wonderful multicultural selection based on a Nicaraguan folk song that reminds us that all the nations like bananas! With alternating sections of Spanish and English text, this charming arrangement features multiple ad lib solo opportunities in a way that encourages personalization and diversity, all while promoting unity and fun! "You and me like it, everybody like it!"

Click HERE for a preview
Un Poco Loco (From Coco)-

Translating to "A Little Crazy", the lyrics to this Disney Pixar film "Coco" are just that. Full of whimsy and surprises, the verse text is in English while the repeated lines are in Spanish. A fun hand-clapping section lends itself to movement if desired and the repeated sections make this easy to learn.

Click HERE for a preview
1-4-3 I Love You– Fred Rogers, the television personality who championed children's education and social equality, was especially fond of the numbers 1, 4 and 3 signifying the number of letters in "I," "love" and "you." With accessible ranges and harmonies and a bouncy accompaniment, this piece will be appealing to students and audiences alike. Click HERE for a preview              
Spring Performance Locations
more to come
UCF Men's Basketball National Anthem (UCF Campus Arena): February 22nd versus Tulane. Since the game is a noon start, we will need our group there at 10:00am for a rehearsal on the court (15 minutes at most) before warm-ups start.
Early Spring performance TBA
Tentative- Friday, May 13th Concert in the Blackbox Theater Caponi Studio- Tickets required.
Click HERE to register now for the Spring!
Click HERE to check out our YouTube Channel with videos