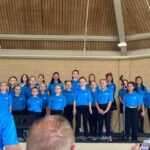 Our show chorus began 16 years ago and consists of children between the ages of 7- through 8th Grade. It is perfect for a child who may be shy but wants to be more comfortable performing on stage- but it is also great for more seasoned performers who would like to audition for solos and have the exposure of singing a solo at a larger venue. If you have a child younger than 7, we recommend our VPK-6 year old Musical Theater Class. Click HERE now to learn more.
We are proud to have had our chorus students featured at Walt Disney World, Downtown Celebration, Gaylord Palms Resort, UCF Arena, United Way events, retirement homes, the National Anthem for the Magic and Braves, The Dr. Phillips Performing Arts Center, and even auditioned for America's Got Talent in Orlando.
We meet once a week and will spend the first five minutes on music reading, scales, and vocal warm-ups. The remainder of the time will be spent learning our music for the session along with stage choreography
Under the direction of Mr. Caponi
Entering Grades 1-8
Spring 2022 Season (Wednesday, January 5th -May 18th )
Click HERE to register. Spots WILL fill quickly. Possible alternate day if class becomes full
Chorus: Ages 7 through 8th Grade each Wednesday (4:30-5:30 p.m.)

All classes will be located at our studio -303 North US-Highway 27 Unit 2C Minneola, Fl 34715

Registration (New & Returning Students): $50 per student, which includes Sheet music, rehearsal music, and rights to perform. Due to increased costs, this is the new pricing for registration.

Performing Polo Shirt is required for purchase. $20

Tuition

: $300 for the spring season (18 weeks- Off Thanksgiving Week). Tuition is due by the 1st of each month or by the first day of the month of your child's class. If tuition is not paid by due date, a $25 late fee will apply.

NOTE: All classes are conveniently broken into monthly payments per the total season cost. Some months are shorter than others, but it is based on the season, not the individual months. This makes it easier for parents to budget.

Spring performance attire consists of

: Black Dress Pants, Black shoes (flats or all black). All shoes will have to be approved by the Caponi's prior to a performance. No colored shoelaces. All polos are tucked in.
Spring 2022 Repertoire Below
TV Time (Medley)–It's time to get ready for this entertaining medley of eleven TV themes from the "golden age" of sitcoms: Laverne & Shirley; Three's Company; The Brady Bunch; Green Acres; The Addams Family; Mister Ed; The Beverly Hillbillies; Bonanza; I Love Lucy; Happy Days and Carol Burnett's Theme. The older members of your audience will get a nostalgic thrill from this, and your students will enjoy a real blast from the past! Click HERE for a preview

Surfin USA (Medley)– An action-packed 10 minute feature that's guaranteed to be everyone's favorite "fun in the sun" medley. Includes: Surfin' USA; Surfin' Safari; Jaws Theme; The Purple People Eater; Surfer Girl; Itsy Bitsy Teenie Weenie Yellow Polka Dot Bikini; Land Of 1000 Dances; Louie Louie; Tutti Frutti and The Twist. You won't get burned with this one!

Listen to the Rain

– This imaginative piece will captivate your audience with the sounds and sensations of a thunderstorm. The whispered opening and lyrical melody set the mood for the moment when the audience becomes part of the performance. One or more singers, the Rain Leaders, lead in creating a remarkably realistic-sounding thunderstorm (using body percussion). Click HERE for a preview
Spring Performance Locations (Subject to Change)
(Just Anounced) America's Got Talent Live audition in our studio, January 22nd at 11:00 am. Details to come

Possible Universal Studios City Walk or other Theme Park

National Anthem Orlando Solar Bears or UCF Knights Basketball (Friday, March 25th )

Performance at our Studio– Dates TBA

Please Note: Students will be performing up to a 25 minute repertoire of music at various locations during the season. Please keep in mind that although our show chorus does not require auditions to join, there are opportunities for solos depending on the songs that are chosen for the season. For anyone that is interested in 'possible' singing or speaking solos, we will be looking for how your child projects, their pitch, and stage presence. Dates will be provided for parents in advance on when your child would audition for various solos.