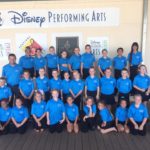 Our show chorus began 16 years ago and consists of children between the ages of 7 (By September 1st) through 6th Grade). It is perfect for a child who may be shy but wants to be more comfortable performing on stage- but it is also great for more seasoned performers who would like to audition for solos and have the exposure of singing a solo at a larger venue. If you have a child younger than 7, we recommend our VPK-6 year old Musical Theater Class. Click HERE now to learn more.
We are proud to have had our chorus students featured at Walt Disney World, Downtown Celebration, Gaylord Palms Resort, UCF Arena, United Way events, retirement homes, the National Anthem for the Magic and Braves, The Dr. Phillips Performing Arts Center, and even auditioned for America's Got Talent in Orlando.
We meet once a week and will spend the first five minutes on music reading, scales, and vocal warm-ups. The remainder of the time will be spent learning our music for the session along with stage choreography
Under the direction of Mr. Caponi
Entering Grades 1-6
Spring Season is Full
Click HERE to show interest for the Summer Camps or Fall Chorus Season,
Chorus: Ages 7 (by August 1st, 2020) through 6th Grade each Wednesdays (4:30-5:30 p.m.) -Spring Classes

All classes will be located at our studio

-303 North US-Highway 27 Unit 2C Minneola, Fl 34715

Registration (New & Returning Students): $50 per student, which includes Sheet music, rehearsal music, and rights to perform. Due to increased costs, this is the new pricing for registration.

Performing Polo Shirt is required for purchase. $20 

Tuition

: $300 for the spring season (17 weeks- Off Spring Break Week). Tuition is due by the 1st of each month or by the first day of the month of your child's class. If tuition is not paid by due date, a $25 late fee will apply.

NOTE: All classes are conveniently broken into monthly payments per the total season cost. Some months are shorter than others, but it is based on the season, not the individual months. This makes it easier for parents to budget.

Spring performance attire consists of

:  Black Dress Pants, Black shoes (flats or all black). All shoes will have to be approved by the Caponi's prior to a performance. No colored shoelaces. All polos are tucked in.
Spring 2021 Repertoire Below
Spring Performance Locations
BlackBox Theater Performance–

Thursday, May 20th at 7:00 pm and Friday, May 21st at 7:00 p.m. Subject to change. Ticketed event
Will be submitting an audition for theme parks, as well

(

Universal Studios and Disney Performing Arts pending their CDC restrictions)

Will recently just did a LIVE virtual audition with America's Got Talent in January. They will let us know in the spring if we move on to the next round. 

Please Note: Students will be performing up to a 25 minute repertoire of music at various locations during the season. Please keep in mind that although our show chorus does not require auditions to join, there are opportunities for solos depending on the songs that are chosen for the season. For anyone that is interested in 'possible' singing or speaking solos, we will be looking for how your child projects, their pitch, and stage presence. Dates will be provided for parents in advance on when your child would audition for various solos.